In This Issue...
Fresh Water ExPress!
What's New on the Website
Featured Website Visitor
Promotional Offers
Fish Recipe of the Month
Quote of the Month
---
Fresh Water ExPress!
Have you ever been fishing for a specific species of fish, but ended up catching a different type of a prize fish by complete surprise? Well, it recently happened to me and my two boys. We went fishing for largemouth bass and ended up catching a nice striped bass. The kicker is that we were fishing in an area of water that hasn't been known to have stripers migrating through there for quite a few years now. Read the full story on the website about our Striper Fishing Adventure.
---
What's New on FishingLoft.com
Have you checked out the new 2011 fishing photo contest yet? Stop by today and get your pictures and stories entered for a chance to win. Contest prizes include Bass Pro Shops Gift Cards
.
Aside from the contest, there have been quite a few other notable anglers showing off their catch, such as...
Largemouth On Jigs In November
and this would be a North Carolina white crappie record...
and this slab of a bronzback...
Feel free to have a look at those and add your comments there too.
We have also been updating information about smallmouth bass fishing with various tips, techniques and tactics. You can stop by there at any time to see what we have available so far, and be sure to keep an eye out for more stuff as we continue to update and expand that section, just as well as other topics.
---
Featured Website Visitor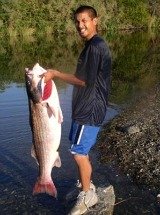 This months featured visitor is Nelson Ocampo, from Sacramento, California of the USA.
You may recognize him as last years fishing photo contest winner. He also likes to be called the "Striper King" because of all the big striped bass he has managed to land.
He has offered his striper fishing tips and techniques that have helped in his striped bass fishing success, such as his "Dream Come True... article. And also how he Created His Own Destiny by doing his striped bass fishing homework before knocking it to those big stripers.
Would you like to know how you can become a featured visitor too? It's easy. Simply by participating on the website. Maybe other fishermen can learn something from your contributions. Regardless of how simple or little it may seem to you, it can make a huge difference to somebody else. Some things you can consider might be to submit some of your fishing pictures, share a story, write up a quick review, use our questions and answers section to offer tips, or send in a recipe...
---
Promotional Offers
Subscribe to some of your favorite magazines through Magazine Agent today. They are one of the largest internet based magazine subscription agencies on the world wide web with 1,000's of titles to choose from.
Click on the image link below to find awesome deals with up to 90% discounted prices for the magazines that you enjoy reading...

---
Fish Recipe of the Month
Easy Asian Tuna Salad
12 ounces albacore tuna (canned or fresh)
2 limes; 1 juiced, the other cut into wedges
1 papaya; peeled, seeded and cut into 2 inch thick strips
1/4 cup chopped jalapeno
1/4 cup finely chopped peanuts
1/4 cup finely chopped basil
2 scallions, sliced thinly

Combine all of the ingredients together in a medium sized bowl and toss gently. Salt and pepper to taste if desired. Serve immediately with a lime wedge per serving.
This tuna salad tastes delicious on toasted bread, with crackers, or even in a crisp lettuce wrap. Enjoy!
**********
This fish recipe is not featured on our website. It is intended for you to enjoy and as a thank you for being a subscriber to our newsletter. You can visit our freshwater fish recipes section for even more delicious tasting fish dish ideas.
You can also share your fish recipes while you're there. We might even feature it in one of our future issues of The Fishing Loft newsletter...
such as this Canned Shad Fish Recipe sent in by Jeremy from North Carolina. This shad recipe more or less lets you know how to easily can shad, much like sardines and salmon, in order to break down the boniness contained in the fish.
And here is a Pan Seared Striped Bass with Citrus recipe that I quickly put together after a recent outing.
---
Quote of the Month
"Fishing is the sport of drowning worms." ~ Author Unknown
---
Do you have a hobby? What's your passion? Ever wondered how to build your very own website? Click the image link and get started today...