In This Issue...
Going Mobile
Fish Recipe of the Month
Quote of the Month
---
Freshwater ExPress!
Going Mobile
Do you think you're smart?
We do! Well, at least Google and Yahoo! and Bing wants us to be. So, we will be.
You may have already noticed that I'm in the process of revamping the entire website. Some pages on the site look a little different than before. Nothing to worry about, but please bear with me through this transition.
It's getting a more modernized looking template, with a responsive design. The responsive design allows the content of the pages to adjust to various screen widths. Thus, becoming mobile-friendly.
This will be better for you to read and navigate through the site on your smart phones, tablets, and any other mobile device, whether at home or out and about. Of course this is perfect for those of us looking for tips, tricks and techniques while out on the water. And for those who want to share pictures of what they just caught directly from your cell phone.
Anyways, I am personally going through one page at a time. It's a bit of a painstaking process, but should be well worth it. I'll be editing each page as necessary to make sure they are up-to-date and current, and even deleting things that are no longer relevant or just garbage.
BTW, nearly half of the visitors that come to www.fishingloft.com are using a mobile device when they do. That is just one of the main reasons why this is a big deal.
I hope you enjoy the new look and feel of the revamped website. Feel free to provide your feedback by getting in touch with us through our contact page. Thanks.
P.S. You can follow along with us. Many of our most important pages will be listed as updates on our fishing blog page. Check there often to see what's new. You can also subscribe to our RSS feed to be notified when those new pages appear.
---
Fish Recipe of the Month
Baked Cod w/ Dill, Green Onions and Soy
This recipe can be found on our website at Baked Cod Recipe.
This is one of our most recent pages that was just transitioned over to the new mobile-friendly responsive layout. Enjoy.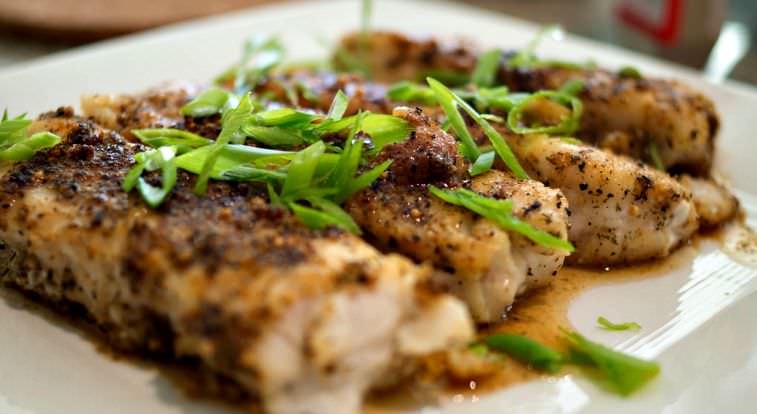 ---
Quote of the Month
"There he stands, draped in more equipment than a telephone lineman, trying to outwit an organism with a brain no bigger than a breadcrumb, and getting licked in the process." ~ Paul O'Neil
---
A Few Revamped Pages You Might Be Interested In:
Baitcasting Reels
Retired Couple Go Striper Fishing
Cheap Abu Garcia Fishing Reels
Arbor Knot Instructions
How To Build A Website