The Fishing Loft Newsletter - Spring Bling Fishing
May 2011


In This Issue...
Contests
What's New on the Website
Featured Website Fishing Fanatic
Promotional Offers
Fish Recipe of the Month
Quote of the Month
---
Fishing Photo Contest
Have you entered the 2011 Fishing Photo Contest yet? Here is the direct link to the contest page: https://www.fishingloft.com/fishing-photo-contest-2011.html
Check out the contest entries so far and be sure to rate and leave your comments there on the ones that you would like to.
Oh yeah, and submit your own fishing pictures with a quick little story about your catch, just about 150 words or more. Pass the word along to your friends too.
Stop by and enter the Fishing Photo Contest today.
---
What's New on FishingLoft.com
Do you enjoy fishing for smallmouth bass? We've put together a few tips, techniques and tactics for catching those seemingly elusive bronzebacks.
Since sring is here, these top 3 spring time smallmouth bass fishing tips just might inspire you to get out on the water at this time of year. Good luck.
---
Featured Website Fishing Fanatic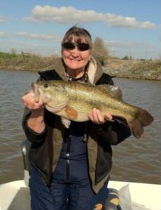 This months featured website visitor comes in from Manteca, California of the USA. Her name happens to be Cindy Crawford (not the supermodel celebrity chick from television).
Cindy works full time as Lab Supervisor in a hospital. But she absolutely LOVES to fish so much that she spends her Saturdays working at Bass Pro Shops.
When Cindy isn't working, can you guess where you might find her and her husband? Yup, out on the water in their bass boat on somewhere on the California Delta. They try to go fishing at least once a week, rain or shine.
The picture shown here is of a 8lbs, 10oz largemouth bass, which won her bragging rights in a friendly tournament with her co-workers from BPS. You can see it on the website at "Big Fish Largemouth Bass" in the Bass Fishing Pictures section. Feel free to add your commentary there.
---
Promotional Offers
Father's Day is just right around the corner on June 19th. Need some gift ideas for a Dad or even a Graduate that enjoys fishing?
You can keep it simple, while still having a nice impact on them to show your gratitude. I recommend some kind of an angler's kit. Some examples could be:
KVD Strike King Sexy Shad Kit
Soft Plastic Worm/Creature Bait Kit
Rod Holder Racks
Rod and Reel Combos

Memorial Day is at the end of this month too. Shop online today to get great sale prices and excellent deals at Bass Pro Shops
!
And if you'd like to get him a little extra something, or maybe a little unsure, why not a subscription to a fishing magazine, or another one of their favorites? Save up to 90% on some of the top magazine subscriptions here by ordering through the banner link below...

---
Fish Recipe of the Month
Barbecued Salmon Tacos
2 pounds salmon steaks or fillets
flour tortillas
1 head of lettuce, shredded
sliced avacodos
1 red onion, sliced thinly
2 tomatoes, chopped
Salsa, optional
Monterey Jack cheese, shredded
limes
1) Season the salmon on both sides with salt and freshly ground black pepper, and evenly coat with olive oil.
2) Grill the salmon steaks over a medium-hot charcoal or gas grill for about 3 minutes on each side, or until the fish just begins to flake.
3) Remove the salmon from the grill and place on a cutting board. Slice the fish into strips.
4) In the flour tortillas, add some shredded lettuce and salmon. Squeeze a bit of fresh lime juice, and top with chopped tomatoes, avacado slices, sliced onion, salsa and shredded cheese.
---
Quote of the Month
"Three-fourths of the Earth's surface is water, and one-fourth is land. It is quite clear that the good Lord intended us to spend triple the amount of time fishing as taking care of the lawn" ~ Chuck Clark
---

---