Bazooka Tube Fishing Rod Cases
Bazooka tube fishing rod cases are the top notch elite storage solution products for airline travelling with your most prized fishing rods and reels.
If you're a fisherman that is considereing on flying on an airplane with your fishing equipment and gear, especially on a consistant basis, then a bazooka tube fishing case would be perfect to securely protect your fishing poles from any freightliner damage that may occur.
Bazooka tube rod cases are not only excellent for airline travel, they are also convenient for taking along to your favorite saltwater or freshwater fishing spots via car, bike, motorcycle, boat or walking by foot.
We've checked out some of the top brands of bazooko fishing rod tubes such as the Flambeau Bazuka Pro Rod Case, Flambeau Bazuka Standard Rod Case, Plano Airliner, Plano Deluxe Hard Rod Case, Intercept Rod and Reel Case, and the Frabil Pack-A-Pole. We've even put together our own rated reviews for a couple of these products of fishing rod cases which you see here below.
Top Picks Of Bazooka Tube Fishing Rod Cases
Plano Fishing Rod Tube Cases
Plano® Jumbo Airliner Rod Case
This Plano Jumbo Airliner Rod Case is desined with a thick wall barrier to maximize protection. It also contains wheels for easy transportation.
It is 67 inches when closed, and extends all the way out to 112 inches when fully opened. It can easily fit six to seven fishing rods with no problems. I've even heard of one fisherman who can pack 12 of his rods inside of this bazooka case.
---

Plano Airliner Telescoping Rod Case
Plano® Airliner Telescoping Rod Case - 47"-88"
This Plano Airliner Telescoping Rod Case is airline approved and ready for take off. This fishing rod case is 47 inches when collapsed down, and extends out to 88 inches, which makes it long enough to safely secure 7' fishing poles. The 5 inch diameter is wide enough to neatly stuff in about 8 fishing rods.
I don't see much of a draw back with this fishing rod tube case. Just be sure to watch your guides as they may seem to catch on the collapsable sections inside the tube while packing and unpacking them. Other than that, go ahead and let the airline baggage handlers toss it around the turmac.
---
Plano® Deluxe Hard Rod Case - 58"-106"
This Plano Deluxe Hard Rod Case is tough on the outside and has plenty of padding on the inside. It measures at 58 inches when collapsed down, and extends out to 106 inches.
This is a great rod case for what it's priced at. However, the handle and the locking mechanisms seem to be just a little on the flimsy side. Therefore, I would recommend for you to be aware of the consequences with that if you plan on taking it on the airlines. Other that, it's great for storing your fishing rods while going to and from the lake or river by car, boat or canoe.
---
White River Fly Rod Tube Cases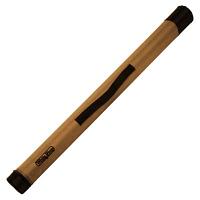 White River Fly Shop
Tri Fly Rod Tube
White River Fly Shop Tri Fly Rod Tube - 9' 2,3,4-Piece Rod
The White River Fly Shop Tri Fly Rod Tube comes in 3 different models to be able to accompany 9 foot fly rods, for either 2-piece, 3-piece, or 4-piece rods.
These fly fishing rod tubes are constructed of the rugged 1000 denier nylon water repellent material with reinforced seems, along with anti-scuff pads for added protection.
The unique thing about these fishing rod tube cases is that they are built with a triangluar shape, which helps to add strength and durability, as well as to help prevent the tube from rolling around.
With pricings at around $23 - $25, these fly rod tubes can be a bit hard to pass up for serious fly fishermen.
---
Flambeau Fishing Rod Tube Cases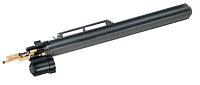 Flambeau Bazuka Standard Rod Case
Flambeau® Bazuka Standard Rod Case
The Flambeau Bazuka Standard Rod Case is constructed using blow molding technology which adds strength and durability to help resist bending, crushing and breaking.
This fishing rod bazooka tube measures to telescope from 63 to 87 inches long, which enables 6 fishing rods up to 6½ feet long to be packed securely inside.
---
Flambeau® Bazuka Pro Rod Case
This Flambeau Bazuka Pro Rod Case is a step up from the Standard model, and is built just as super tough with the same construction methods.
These fishing rod cases measure to telescope from 73 inches to 102 inches, which seems to be able to accomadate many saltwater and surf fishing poles or any type of a rod with larger eyes.
There does seem to be a little drawback for this one though. I have noticed a couple of complaints about the latches and the end caps. My advice is to be sure to handle them a bit more appropriately rather than trying to test it beyond it's capabilities.
Warranty Information About Fishing Rod Cases
When finally selecting and choosing the right fishing rod tube for your needs, you may want to consider checking out the manufacturer's warranty policy, as with anything else costly that you would buy. The reason is because not all of companies will cover airliner damages.
If you think that you don't need or want a bazooka style tube, you can also weigh your options with these other types of cases for fishing rods with reviews.
Like FishingLoft.com?
↑ TOP OF PAGE